Mission Statement
Challenging minds
Developing character
Maintaining a safe learning environment
Supporting physical, mental, and emotional growth
"The school's mission statement was examined during the 2010-2011 school year as a part of the reaccreditation process, but stakeholders determined that changes to the mission statement were unnecessary, as the mission statement continued to coincide with the beliefs and vision for the school. The mission statement continues to serve as a simple reminder of what the stakeholders at Chuckey-Doak Middle School are supporting and the acronym provides stakeholders with a mission statement that is easy to remember."
About The School
Welcome to the CDMS Family!
Welcome to the CDMS Family! We consider all of our students, parents, guardians, faculty, staff and community as part of our family. At this school your child will be academically challenged, accepted and loved, and shown how to exhibit strong character and cultural values. Our three core values are Rigor, Respect and Responsibility. We expect our students to work hard in order to accomplish their goals, to treat others with kindness and to own what they do. All of our beliefs and values are accomplished with consistent communication, early notification if an issue arises, and always keeping an open-door policy.
Our belief system guides us as we strive to make this community, but especially CDMS, the very best for your child. Thank you for choosing us and we look forward to working with you as we make our school, community, and childrens' lives better.
Sincerely,
Steven Broyles, Principal
---
The Knight's Oath
The Knight's Oath
"As a Knight in the CDMS family, I pledge to be honest with myself, with others and in my work; to RESPECT myself, my peers, adults and school property; and to be RESPONSIBLE for my actions."
---
CDMS is Partners in Education
CDMS is Partners in Education
with
American Greetings
Express Mart
And
Terry, Terry and Stapleton Law Firm
---
Coat of Arms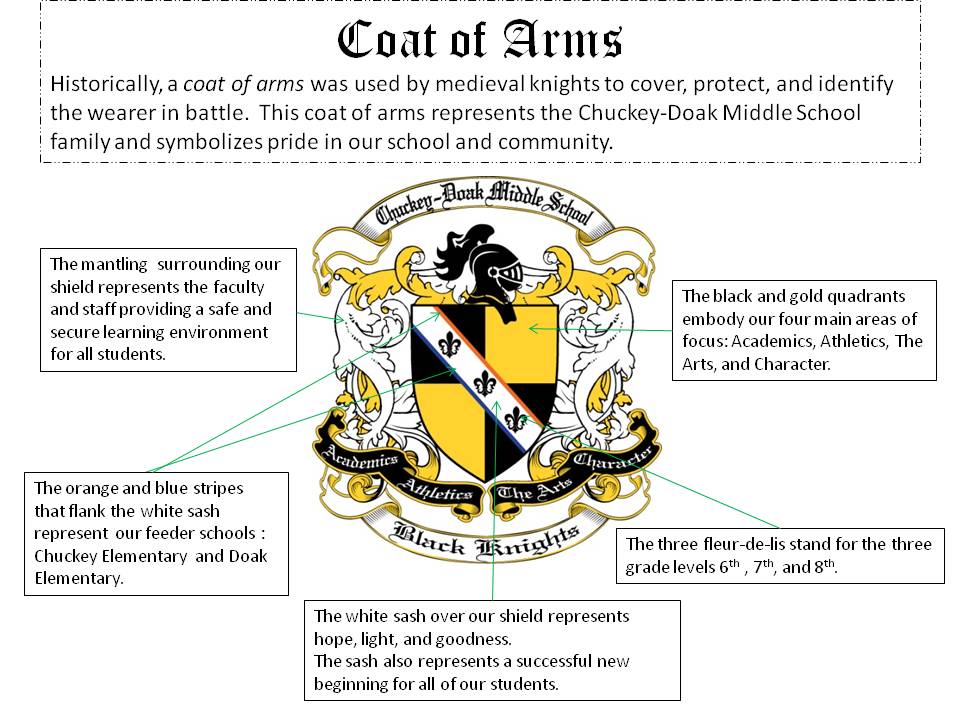 ---
TCAP Information
Tennessee is Raising the Bar for Students in the Classroom

Higher academic standards will make students ready for college or a career, but will mean harder tests and maybe even lower test scores and grades in the near future. If your child is struggling with higher standards, don't get discouraged. As a parent, it's time to EXPECT MORE so your child can ACHIEVE MORE. Know the facts. Understand why higher standards are important to your child's future.

How did CDMS compare to the State on the 2010 TCAP test?
(Based on % Proficient and Advanced)
6th, 7th, and 8th Grades
Language Arts – Above State Performance
Math – Above State Performance
Science – Above State Performance
Social Studies – No state data

How did CDMS rank compared to the other Greene County Schools?
(Based on % Proficiency and Advanced at 10 schools)
6th Grade Reading/Language Arts – 1st
6th Grade Math – 1st
6th Science – 3rd
6th Grade Social Studies – 5th
7th Grade Reading/Language Arts – 4th
7th Grade Math – 2nd
7th Grade Science – 3rd
7th Grade Social Studies – 5th
8th Grade Reading/Language Arts – 6th
8th Grade Math – 4th
8th Grade Science – 7th
8th Grade Social Studies – 7th

Visit the following websites for more information and listen to a message from UT Coach Pat Summitt.

www.expectmoretn.org
---
Vision
In an exemplary school the students will...

Behave toward others in a manner consistent with good character.
Be engaged in learning and demonstrate ownership in their education.
Understand their gifts and strengths and utilize them to experience success.
Utilize technology to enhance learning.
Demonstrate an enthusiasm for reading and writing.


In an exemplary school the teachers will...

Use differentiated, research-based strategies and best practices in the classroom.
Use student achievement data to guide instruction.
Be technologically competent and utilize all resources that are available.
Model professional attitudes and integrity daily.
Encourage student engagement and involvement in their learning.
Continually promote reading and writing in a variety of ways.


In an exemplary school the school will...

Be a healthy and safe environment for all stakeholders.
Offer opportunities for social and academic growth in a productive learning environment.
Proved professional development for teachers and opportunities to collaborate.
Provide for advancements in technology access and support to enhance student learning.
Promote open communication and involvement between all stakeholders.
Provide support and high-quality professional development opportunities in literacy


In an exemplary school the parents and community will...

Support the school through PTSO, Partners in Education, advisory committees, and maintain open communication.
Monitor their student's academic progress.
Support and demonstrate the importance of education.
Model healthy attitudes toward reading.
---
Beliefs
At Chuckey-Doak Middle School we believe that students....

should be able to function successfully for all levels of society and understand local, national, and global civic responsibilities, demonstrate active citizenship and develop the interpersonal skills needed to function in society, including accepting responsibility for their behavior.
should be actively engaged in purposeful learning that prepares the students for their academic future.
have diverse strengths, skills, interests, backgrounds, and potential.
should respect and value the diversity of people within the community.
should read deeply to independently gather, assess, and interpret information from a variety of sources and read avidly for enjoyment and lifelong learning.
should develop strengths, skills, and interests to have an understanding of his or her potential contribution to society.


At Chuckey-Doak Middle School we believe that teachers...

should foster the emotional, social, and academic growth of students.
should demonstrate a positive attitude by caring about and supporting students and each other.
should communicate clearly with students, parents, and staff.
should be lifelong learners.
should respect and recognize the diversity of the student population within the classroom.
should present rigorous instruction in a dynamic and purposeful manner.


At Chuckey-Doak Middle School we believe that the school...

should provide various programs to enhance higher levels of learning, including use of current technology.
should be safe, inclusive, and supportive environment.
should provide support for successful transitions.
should include stakeholders in decision-making and encourage stakeholder involvement.
should assist in the development of positive character and integrity.
---
CDMS Rules
Chuckey Doak Middle School Pledge
Come Prepared
Do Your Best
Make Smart Decisions
Show Respect
---
Profesional Memberships
Organization Membership:
Chuckey-Doak Middle School Is a Member Of:
National Middle School Association (NMSA)
Association for Supervision and Curriculum Development (ASCD)
Tennessee Middle School Athletic Association (TMSAA)

---